Buying art that is affordable online has become increasingly popular in recent years. If you're on the hunt for a piece of art that'll work well in your house, chances are you will be able to find it on Artfinder.
Founded in 2011 with headquarters in London and Miami, USA, Artfinder boasts being the art marketplace.
The company is founded on the principle that artists are anywhere in the world, as are those that appreciate authentic works of art. The company believes in that 'made to last' quality, and building creative communities across the globe.
In this article, we will take a deep dive into the online world of Artfinder. We'll discuss whether it is as good as it sounds, what you can expect when buying art from them, and consider Artfinder from the artist's perspective.
We'll also break down how to start selling your art online with Artfinder including their application process. So, if you're interested in finding out more about buying and selling art online, but don't know where to start, read on and see what we had to say about Artfinder.com!
What Is Artfinder? 
Artfinder is, in a nutshell, an online art gallery where you can buy art from anywhere in the world. As you might expect, Artfinder is a powerful way for artists to reach audiences who they most likely would never be able to without it.
Having a world's worth of art at your fingertips means you can decorate your home or office with unique pieces and support real artists at the same time.
You might be wondering what kind of art you can buy and sell on Artfinder, the answer is pretty much anything considered "art." You can find paintings, fine art photography, illustrations, drawings, sculptures, art prints, collages, and lots more.
Is Artfinder Safe & Legit? 
The consensus amongst customers and creators who use Artfinder to buy and sell artwork is that the platform is safe & legit, and can be a very good place to start your online art journey.
On the Artfinder website homepage, you can use the search bar at the top of the page if you're looking for a specific artist or artwork. 
If you're simply looking for something, but are not sure what that piece is yet, by hovering over the Shop menu, you'll be presented with numerous filters. These filters range from the medium (type) of art, like paintings or drawings, to the subject and budget.
Next to the Shop menu, you'll find the Inspiration menu. We found this to be a nice touch and useful if the Shop menu filters are too specific, and you are struggling to decide what you are looking for.
The Inspiration menu has choices like Editor's Pick, where you can see the best of any given month's artwork and artists. There's also an Ideas section, so if you're looking for a particular decor theme, this is the place to start.
The Artfinder platform is quite intuitive, meaning that as you scroll through artwork and "like" it, it is added to your favorites.
What's more, Artfinder recommends other artists and artwork you might like, much like Spotify. If you're unsure of what your art tastes might be, by using this function you're likely to build up a clear picture of what you like.
What To Expect When Buying From Artfinder
There are a number of things to expect when making a purchase on Artfinder. The more abstract of these are the following:
Supporting Independent Artists – by using Artfinder you're helping a real person make a living doing what they love.
Buying Hand-Crafted, Authentic Art – all artists on Artfinder are ratified by the company, meaning that you're buying original and unique artwork.
In terms of the more practical aspects of buying from Artfinder, the most important of these is the risk-free experience.
All transactions are secured through PayPal, and can be spread out over a period of time by paying with Deko. All major cards are accepted, including American Express.
Arfinder also has a money-back guarantee, if you're unhappy with your purchase, you have up to 14 days to return with their no questions asked returns policy.
As Artfinder is open to anyone living anywhere in the world, you might be wondering about the logistics of receiving your order. All shipping costs are presented to you upfront before you make the purchase, along with an estimated delivery date.
Nearly all the artwork you can purchase from Artfinder arrives framed and ready to hang, which we feel is a nice touch. It's worth checking the size of your order before making a purchase, as many of the pieces are quite small.
There is also a gift card option if you want to give someone a gift but would prefer them to choose the piece.
Artfinder From The Artist's Perspective
In this section of our review, we'll be considering Artfinder from the perspective of the artist. We'll discuss aspects such as commission, how you get paid selling your artwork, and three levels of accounts you can have with them.
How much commission Artfinder takes depends on the level of account you have with them. For a Starter account the commission is a flat 40%, and for the Standard and Professional accounts this drops to 33%. We go into more detail regarding the different levels of accounts a little further down.
You might be wondering how payment works through Artfinder. This is a very valid point, and Artfinder makes it simple and easy to get paid for selling your artwork.
They offer a range of ways to get paid, with payments made twice a month on the first and third Friday. These ways are:
Bank Transfer to a UK bank account
Bank Transfer to an EU bank Account via IBAN
Transferwise via email
PayPal
The Three Levels of Accounts With Artfinder
The three levels of accounts offer certain advantages the further up the scale you go. That being said, not every artist needs to have some of the more advanced capabilities of a Professional Account.
The Starter Account
The Starter Account is completely free to set up, as long as you are accepted to sell on Artfinder that is.
With the Starter account, you have the basic package which enables you to do things like access basic page view analytics, see recently sold artworks, and post updates from your studio.
Whilst the commission on a Starter Account is high at 40%, it's worth thinking about how much you intend to sell on Artfinder. It is easy to adjust your prices up to cover the high fee.
The Standard and Professional Accounts 
Both the Standard and Professional Accounts have a monthly fee, $5 and $12 respectively. They also have a commission fee attached to them of 33% as mentioned earlier in our discussion.
Whilst this is obviously less than the Starter Account, we feel that it is still quite high considering the monthly fee.
Moving from the Starter account to the Standard account doesn't seem to be worth the $5 fee.
The kind of perks that come with a Standard account are things like access to advanced page view analytics, the ability to generate in-context images, and seeing who has "loved" your artwork.
Even with the Professional account, all you'll be seeing is even greater and more in depth analytics and stats. These don't always translate to marketing your artwork any better, especially if you only sell a few pieces of art a year.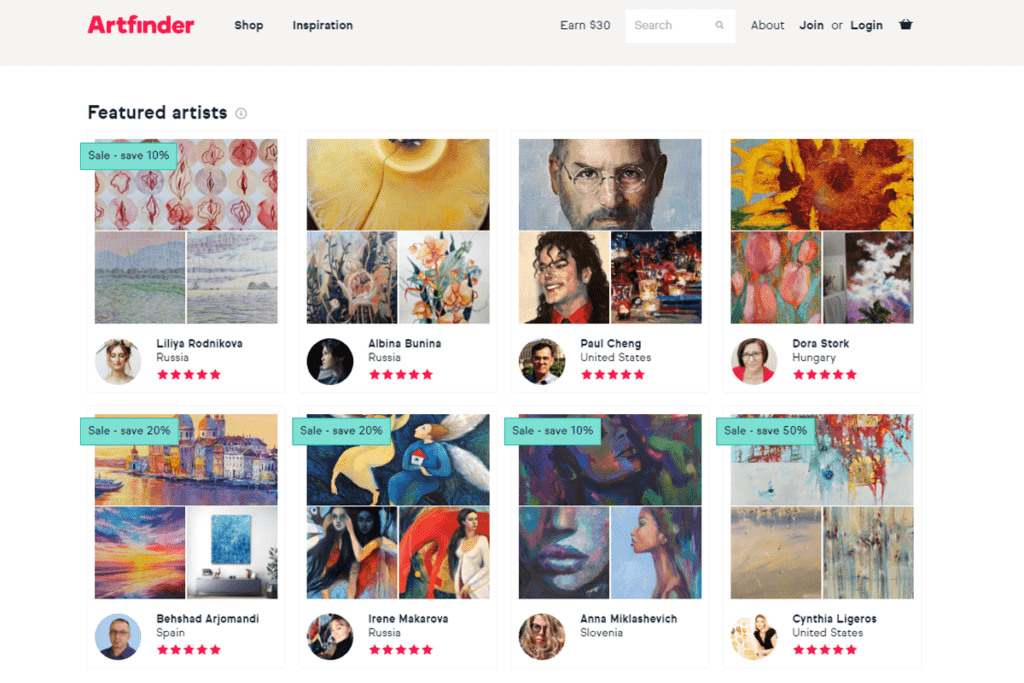 How To Sell Your Artwork With Artfinder
As we mentioned above, all artists are verified and must apply to sell their work on Artfinder. We felt that this is an excellent approach, both for the artists and the customers.
From the perspective of the customer, it is reassuring to know that the artwork you're buying is legitimate. From an artist's perspective, you know that there aren't any scam artists who might be stealing the possibility of you being noticed by potential customers.
The application process for selling artwork on Artfinder is pretty straightforward. It consists of the following steps:
Tell Artfinder your story: share the how's and why's of your artwork and your personal journey.
Link to your online presence: this could be your own website or social media pages.
Provide good quality images: this is a vital part of the application process. Make sure the pictures of your artwork are taken in good light, correctly oriented, and cropped with no background.
Ensure it is original art: the whole point of Artfinder is that all the pieces are handmade and original, not copies of your artwork, as these are not allowed on the platform.
It is worth mentioning that Artfinder now allows artists to sell limited edition artworks. There are certain conditions that need to be met, which are set out by Artfinder if you are considering selling limited edition work. More information on this can be found on the Artfinder website.
Artfinder's Forum And FAQs
Aspects of the Artfinder platform worth mentioning are the Forum and FAQ sections. There is a wealth of information and resources in the FAQ section, which is honestly impressive!
Everything you'd need to know about Artfinder, including signing up to become a seller, setting up your online shop, managing your orders, and so much more, is included. All of these articles can be found here.
The Artfinder forum is a very valuable resource for artists and customers of the site. There isn't another website, let alone an online gallery we can think of, that has such a comprehensive forum.
There are five main sections to the forum, which are as follows:
Announcements
Questions
Meetups
Discussions
Features and Bugs
The Pros and Cons of Artfinder 
We've looked at Artfinder from both the customer and the artist's perspective in an attempt to give a holistic view of the platform.
That being said, we've included a Pros and Cons breakdown to give a snapshot of the good and not so good aspects of Artfinder.
Pros
Reach a Global Audience – Artfinder is truly a platform which connects artists to potential buyers from across the globe.
Artfinder is Legitimate – There is a huge volume of online art galleries, and with all this competition it can be hard to tell who's who.
Well-made Website – The Artfinder website is very well-made. There is also a good level of connectivity between artists and customers, with the ability to send direct messages.
Support Real Artists – With Artfinder's rigorous application process comes the safety of knowing that you're buying from a real artist and helping them make a living.
Cons
Commission fees might be high – This is really our only issue we had with Artfinder. Unlike a physical art gallery that has to pay for overheads and rent, Artfinder is purely online and as such doesn't need to meet these costs. With this in mind, 33-40% commission seems steep, especially when you consider a monthly subscription for the Standard and Professional Accounts. 
Conclusion 
Artfinder provides an outstanding opportunity for artists who want to get paid for their work. It's also a way to create unique pieces without having to spend hours creating a print run.
Artists don't have to worry about printing costs or shipping fees. They just need to upload their files and wait for orders.
When you apply to buy on Artfinder, you'll have access to a gallery full of artwork. You can browse through thousands of images and choose which ones you like best.
Once you select one, you can add it to your cart. To complete your order, you'll pay a small fee, and Artfinder will ship your art to you within 48 hours.
Artfinder offers a variety of payment options. You can use PayPal or credit cards to purchase artwork, and all of its payment options are very secure.
So there really is no question as to why Artfinder has become so popular. After all, it offers artists the opportunity to sell their artwork and get paid for their work, and it offers buyers the opportunity to purchase unique artwork, which is totally legit.