Buying and selling art online has made it easier than ever for enthusiasts to become collectors. However, it's also led to an increasingly large marketplace, with artists constantly looking for new ways to advertise their work, and connect with art lovers.
So, where does Artmajeur fit into this busy picture?
Artmajeur is one of the leading online art galleries, collecting a variety of works from established and up-and-coming artists from around the globe. For buyers, the Artmajeur site is initially complex, but sophisticated search features can give you access to a wealth of works.
For sellers, the Artmajeur free account has the potential to increase outreach and sales.
If you're curious about using Artmajeur, then you might find the initial size of the site off-putting. In this guide, we tell you whether it's worth getting to know Artmajeur, or if there are better places to look for art online. Read on for a full review of Artmajeur, including all the best ways to navigate it.
What Is Artmajeur?
Artmajeur is a massive online art gallery, featuring works from thousands of artists across the globe. Designed to be an easy way to connect art enthusiasts with working artists, Artmajeur grants you access to a diverse array of styles and mediums.
And if something catches your eye, purchasing art through Artmajeur is intended to be easier than ever.
Founded in France by artist Samuel Charmetant, Artmajeur has since gone global. It's now become one of the leading online galleries for artists worldwide.
It doesn't just sell original paintings and prints, Artmajeur is also home to sculpture, photography, and some other unexpected mediums. Sellers will find signing up free and easy, which is why Artmajeur has such a vast collection of works to choose from.
What Is It Like To Buy Art On Artmajeur?
For art lovers, Artmajeur initially feels like a treasure trove. The website is packed with colorful (and not so colorful) pieces, designed to be eye-catching and intriguing. But what is Artmajeur actually like to use?
What Sort Of Art Is Available on Artmajeur?
The art world is constantly growing and expanding, and at Artmajeur you seem to have access to almost all of it. Claiming to have over one million artworks online for sale, Artmajeur is bursting at the seams with fresh, new art.
Artmajeur is a hosting site for artists around the globe, which means that there is plenty of variety. Everything from office ready to canvases to abstract sculptures are available on the site.
It definitely leans towards the bold canvas paintings and prints that are clearly aimed for display in the home. At least, that's the sort of artwork that's immediately promoted on the homepage.
Look a little deeper, and Artmajeur opens itself up. There's an impressive diversity, both in terms of the art itself, and the artists creating it. Artmajeur claims to be home to 180,000 artists, so you can see how they've managed to build such a collection.
The majority of art an Artmajeur leads towards the stylized, which isn't a surprise considering it collaborates with working artists. Within the paintings, colorful designs dominate the searches. If you prefer quieter artworks, you may need to look a little harder. But they're definitely there. The variety of Artmajeur is staggering.
But it isn't all about paintings and prints. Sculpture and photography are covered, alongside other mediums such as textile art. The sculpture range is particularly delightful, especially when compared to some other online art markets.
Pieces that would fit comfortably into the home sit alongside some abstract creations that must be aimed at collectors. And we enjoyed the categorization of sculpture, even if it relied heavily on materials.
The overall impression from Artmajeur is that you can find any type of artwork you might like, as long as you don't mind searching for it.
Can Anyone Sell On Artmajeur?
Both a help and a hindrance. Artmajeur is open to submissions from any artist. That means unknown artists without connections have a chance to get recognized, and you can buy works from those who you'd never have come across otherwise.
But it does also mean there are some people trying to take advantage of the system. And as artists can set their own price, there are some overpriced pieces cluttering up the searches.
Artmajeur mostly promotes artists with a record of sales on the site, so you are less likely to come across those hoping for a large pay for shoddy work (and Artmajeur's impressive returns policy helps here).
What Is The Price Range On Artmajeur?
Artmajeur artworks come in a large price range, with the ability to divide the site up by cost. The lowest price barrier is "under $500". During our browsing, the most budget friendly works we found were around $150. Artmajeur is huge, though, so we expect there are lower priced items hidden away in searches.
The highest price band on Artmajeur is "$10,000 and upwards". The top range seemed to be around $50,000, although we imagine there are more expensive works.
The price barriers aren't hugely restrictive, either. There's as much variety in the lower price band as there is in the higher. And when you search in a specific style, you can divide by price range again using the filters.
Compared to other art buying sites such as Artsy, Artmajeur is relatively budget friendly. At least, there's more opportunity to find high-quality, lower priced artworks.
Various artworks are displayed as "price on request", but it's a small number compared to the priced works.
The Buying Process on Artmajeur
The buying process from Artmajeur is relatively simple. Once you've found an art work you like, simply add it to the cart and you'll be put in contact with the artist.
It isn't quite as easy as other forms of online shopping, because your order form will need to be validated by the artist, and payment methods differ depending on the artist's choice.
Buyer's also have the option to "make an offer". This gives you some flexibility in pricing, and the opportunity to open a dialogue with the artist. However, you do risk having your bid rejected, if the seller doesn't think it's enough.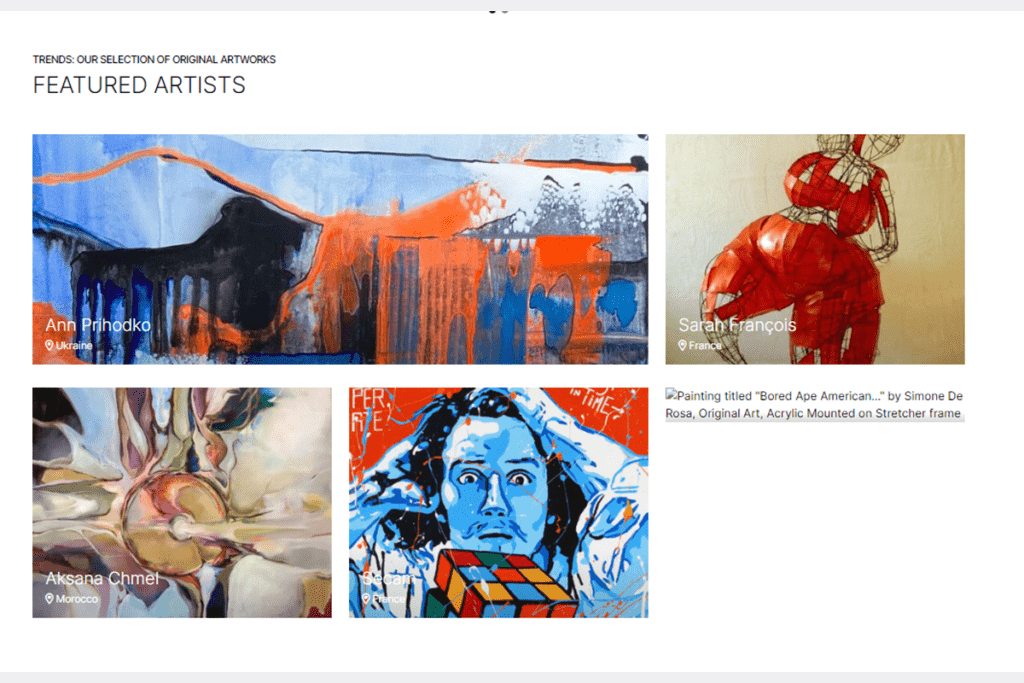 We like the bidding function, and the flexibility it gives to the site. This isn't an auction house bid — you won't necessarily be competing with other buyers. But you can get a back-and-forth going, and negotiate for some deals.
If the buying process is easy, actually getting to that moment can be difficult. Because Artmajeur is so packed full of artworks, making your choice can be a long, drawn out process.
We spent hours scrolling through the site, looking at everything that Artmajeur placed in front of us. The "collect" function was used liberally, adding pieces that had caught our eye to be looked over at a later date.
To make searching more streamlined, use the filters. There are multiple filters to choose from, and we suggest applying them liberally.
Otherwise, it does become quickly overwhelming. If you have a good idea of the artwork you'd like, the filtering system can make it much easier to find.
Something else we really enjoy about Artmajeur is the ability to search for similar images. So, if you find a painting you love, but perhaps haven't budgeted for, you can use this feature to find something in a similar style.
And if you haven't found an artwork you've truly fallen in love with, by searching for similar works, you can narrow down the selection.
Having made your choice and successfully negotiated the purchase, it's time to organize the delivery. On some art buying sites, the delivery process is an expensive nightmare. Not so with Artmajeur.
Delivery is, for the most part, handled by Artmajeur. And the delivery costs are included in the price (by rough calculation), so there's no nasty surprises to catch you out. Artmajeur packs, tracks, and delivers the artworks worldwide.
There's also a 14-day return policy, and easy returns, to ensure you always get the work you want. So, if your art turns up and just doesn't fit the space the way you thought it did, it's no problem.
Buying with Artmajeur is enjoyable, and very natural to use. It strikes a good balance between standard online shopping, and the traditional art world. There's an extra degree of control for the buyer, which is welcome when investing in art.
What Is It Like To Sell Art On Artmajeur?
There are over 180,000 artists registered on Artmajeur, so we have to assume that they're doing something right. The diversity of art choice certainly makes us think Artmajeur attracts an impressive array of accomplished artists.
One of the most attractive features of Artmajeur for artists is that the basic plan is free to sign up to, and allows you to list unlimited artworks.
It's harder to grow the account on a free plan as you have access to limited statistics and marketing, but it's still a fantastic starting point. We especially like the way it allows you to experience Artmajeur, learn how it functions, before you make a monetary commitment.
The paid plans themselves are inexpensive, and can potentially help grow your sales. The paid plan provides you with better marketing features, and easier ways to promote your business, for a minor cost.
The biggest issue with selling via Artmajeur is the difficulty in getting noticed. The site is packed with art, and when you're just starting out, it's easy to get lost.
Artmajeur does promote artists, but primarily focuses on those already established on the website. Signing up to Artmajeur can't guarantee sales, and you must continue promoting via other channels.
If you're thinking of selling on Artmajeur, we highly recommend signing up for a free account and seeing what it's all about.
Is Artmajeur Trustworthy?
Yes, Artmajeur is trustworthy. Users of Artmajeur report having good service, responsive feedback, and consistent communications with artists. Artmajeur sells legitimate artworks from across the globe, with included certificates of authenticity and a speedy delivery process.
One thing to keep in mind as a buyer is that you will be dealing with artists and sellers directly. For the most part, this relationship will run smoothly.
However, you may encounter the occasional seller who replies slowly, and seems unwilling to engage. Artmajeur is more hands-on than some other online art galleries, but sales are ultimately down to the artist.
Sellers will also find that they come across the occasional uncooperative buyer. Artmajeur isn't necessarily about quick sales, so there is an extra level of involvement from both seller and buyer. Some miscommunication is bound to happen across a site this large.
Is There Anything We Don't Like About Artmajeur?
There is much to like about Artmajeur, but it is lacking when it comes to information and promotion. Artmajeur produces a magazine, but the website itself lacks features and editorials.
The Artmajeur curated "Collections" give some background on a movement, style, or subject, but it would be nice to see a more informational approach from Artmajeur.
Final Thoughts On Artmajeur
It's impossible not to be impressed by the scale of fine art on Artmajeur. A quick browse through the catalog can introduce you to a vast diversity of styles and mediums, sometimes making finding a work you're actually interested in surprisingly difficult.
But with a heavy application of filters, and implementing the "similar search" feature, you're almost certain to find something that appeals to you. And within your price range — Artmajeur ranges from the budget to the luxury.
For sellers, Artmajeur is just as appealing. A free account will get you access to unlimited uploads (and a global audience), while Artmajeur takes care of the complicated bits. A premium account with Artmajeur costs a small subscription fee, improving marketing and outreach.
Enthusiasts looking for something special to add to their collection, or brighten up their home, will enjoy using Artmajeur.
For the size and ease, if nothing else. And by implementing the impressive Artmajeur search functions, getting that perfect art work has become easier than ever.