The online art market can be a baffling place, not only because of the sheer amount of options presented. There are places to buy, places to sell, and, of course, the ever present auction houses. Whether you're a collector or an enthusiast, buying art online can take some time to get used to.
One of the biggest names in the online art world is Artsy. For galleries, Artsy is the biggest name of all. This massive online marketplace displays artworks from across the globe, buying and selling exceptional pieces every day. But what is Artsy like to use?
In this review, we take a thorough look at buying and selling on Artsy. Artsy is complex, but rewarding, and art lovers will enjoy simply exploring the site. Read on to find out more.
What Is Artsy?
If you enter Artsy.net with no idea of what it's about, your first reaction might be confusion. There's a lot going on, and it seems more like the homepage of a gallery, than somewhere for enthusiasts to buy art. 
In a way, Artsy is like a gallery's homepage — only rather than covering one gallery, it hosts hundreds. Artsy is a massive online global marketplace for buying and selling art. But rather than working with artists themselves, Artsy partners with galleries, museums, and other art institutions.
For the buyer, that means you have access to a global network of galleries. Eager collectors can buy investment pieces, while art lovers can find a new work for their home.
And galleries have the opportunity to reach an extensive audience, and sell online without involving an auction house. Although, you can also auction artwork on Artsy, if you prefer.
Artsy is ambitious, and a little bit daunting when you first approach it. 
What Can You Buy On Artsy?
The artwork available on Artsy is probably the most impressive part of the site. There's so much variety, from Contemporary up and comers to long-established names. Artsy doesn't just deal with paintings — many mediums are listed for sale, including abstract sculptures and photography.
Artsy doesn't just sell any type of art, Artsy sells gallery artworks (which we say with the addendum that galleries feature all sorts of work). Artworks on Artsy have been approved and curated, and sometimes valued by an outside party.
This isn't the place to go if you're looking for a bright and cheerful canvas to brighten a spare bedroom (unless you have a sizable budget). But if you're after something special for the home, then Artsy might have what you need.
New works are added to Artsy all the time, including from short term art fairs. Keeping up with the sheer amount of artworks is impossible, but you can always be sure to find something you like. Whether or not the piece in question is in your price range is a whole other story…
What Is The Price Range Of Artsy?
Artsy definitely caters towards the bigger budget, although you can find some more affordable artworks.
Prices range from several hundred dollars, to over one million dollars — like we said, Artsy deals with some real collector's art.
This can make Artsy off-putting to the casual user. When the first pieces that pop up are several (hundred) times more expensive than your budget, it undoubtedly feels like you're in over your head.
However, Artsy is notable for the range of prices, and that includes the lower end of the scale. And because Artsy deals with galleries, you can find some really quite special offerings. Order artworks by price, and you can see pieces that are under $5000. The lowest price offering we came across was $150.
What Is Buying Art On Artsy Like?
The first impressions of using the Artsy website are good, if overwhelming. Artsy has plenty of artworks for sale, from galleries and museums around the world (although the user base is primarily from the USA). Finding a starting place can feel a bit like taking a shot in the dark.
At first, Artsy seems primarily designed for the investor. The big ticket items are upfront, and the immediate focus is on the art market. If you were hoping to find a prized painting for your home, this can seem off-putting.
But search a little deeper, and you'll find that plenty of the Artsy users are real art lovers. There's an extensive variety of prices and pieces for sale, including a wealth of little known artists.
We found the best way to search the site was either by looking up a specific artist, or checking out the newest offerings. From there, you should get comfortable clicking about. In this way, Artsy is very much like the standard online retailer: there's something new coming in all the time.
Actually buying your artwork can be easy. Artsy allows you to buy items immediately (using the "Buy" section) or engage in an auction (under the "Auction" section).
Buying outright is how the majority of artworks are sold. Scroll through, and find the artwork you like. Then Artsy will typically put you in contact with the gallery, and they'll take it from there. How quick and easy a response you get depends on the individual gallery.
The gallery owners are typically helpful, and Artsy handles the sales well. Be prepared to find a few "Price On Request" items, which will require a longer buying process.
The Artsy "Buy" option feels different to the standard online shopping site. It's not quite as simple as adding your items to a cart, and waiting for delivery.
Instead, Artsy have created an experience that's closer to wandering a gallery, and finding a piece you love. There's a higher level of contact, and some degree of back and forth.
Auctions on Artsy are well run, and even a beginner to the online art market should get on with the intuitive Artsy auction system. You can either manually bid, keeping track of competing bidders and increasing your own offering.
Or you can set a maximum amount for a live auction, and Artsy does the bidding for you. The bids are increased incrementally, and the maximum bid will only be offered when necessary.
The bidding system works well, and is less overwhelming than some online auction houses.
From here, you will typically be expected to arrange a collection.
Artsy also offers an app, which allows you to browse the new offerings, monitor auctions, and even make purchases. We were big fans of the app for browsing, as we could swipe through the marketplace with ease.
Even if you aren't looking to buy, we enjoyed monitoring the comings and goings, and even discovering some new artists.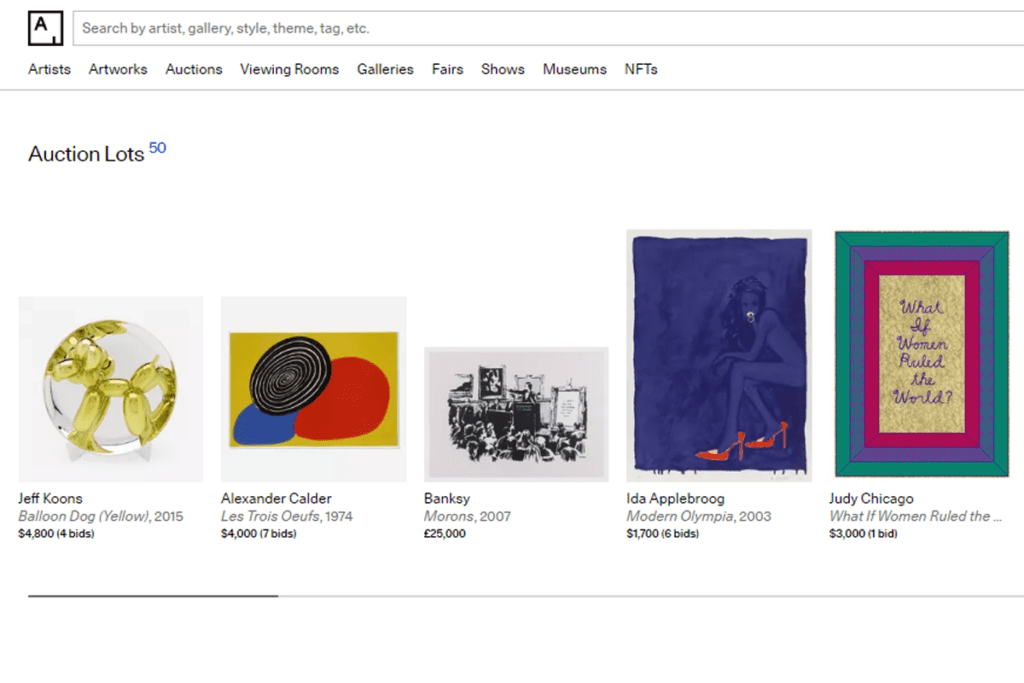 What Is It Like To Sell On Artsy?
Artsy is not aimed at the artist. Instead, Artsy is a sales place for galleries, auction houses, and other art institutions. If you're hoping to sell any of your works online, try somewhere such as Saatchi Art instead.
If you do own a gallery, then Artsy can be a great way to reach a new audience. However, it does come at a cost. If you want to host an artwork on Artsy, you have to pay a fee, and apply as a gallery partner.
From there, galleries are expected to be consistently uploading artwork, as doing so gives your gallery a better chance at getting featured.
Selling a single artwork via auction is easier, but Artsy does have to approve every potential auction item.
Maintaining your Artsy profile can also be difficult, especially for a smaller gallery. Gallery owners have complained in the past that Artsy only promotes the larger, often international, galleries. Making your mark on Artsy can feel impossible.
However, the potential rewards of an Artsy presence can far outweigh the problems. Artsy is a massive network, with plenty of unique visitors. If you do intend to host your gallery on Artsy, we recommend setting up a discussion with Artsy Support before committing.
Is Artsy Reputable?
Yes, Artsy is a reputable website overall. However, there are a few things that you must keep in mind. Although the majority of work on Artsy is legitimate, sometimes fakes can slip through.
Artsy is an online marketplace, which means Artsy doesn't vet each and every artwork being sold. Items that are up for auction have to be approved, but they aren't physically checked by members of the Artsy staff.
This is a large international website, and Artsy acts mostly as the host. The veracity of the item for sale is the responsibility of the seller.
The same is true for the gallery hosting. Artsy does have to approve the gallery (or other art institution). They don't have to approve each artwork being sold.
For any customers interested in making a purchase, it's important to check the credentials of the gallery itself. It may take some extra time to research, but it will save you a costly mistake.
In terms of customer service, Artsy are generally well regarded. Again, it's important to remember they're a hosting site, and can't be responsible for the galleries using the service. Inquiries for artworks can sometimes run slowly, but this is the fault of the gallery.
Overall, Artsy is a reputable and trusted marketplace. But it is critical you remember that they are a marketplace, and host individual sellers.
The Artsy Community
One of our favorite things about the Artsy website might come as a bit of a surprise. As a learning resource, Artsy is exceptional. The website hosts guides and features about artists and art movements, as well as breakdowns of the market.
Entering the art world can be intimidating, especially if you're trying to invest in an expensive work. It can sometimes feel like an exclusive club, and one that you definitely don't have the invite for. But Artsy is doing what it can to combat this.
The Artsy editorials are interesting, informative, and clearly written. They range from artist profiles, to advice on the market, to unraveling the mystery of NFTs.
Artsy editorials are run separately from the hosting and selling side of the site, which does grant you a different perspective. They aren't built solely on selling you pieces, but instead on introducing you to artists and understanding the market.
Something else we loved about Artsy was the ability to browse. They even have a function that allows you to explore the works of a single gallery. It all felt like an easy and natural way to keep track of new artists, and fall in love with some old ones.
With the Artsy app installed, we found ourselves picking it up whilst waiting for the coffee machine, during the commercials, and when waiting in line at the store.
Even when there was nothing we wanted to buy, the ability to look through thousands of works, all contained in one place, was impressive.
The Artsy website may not be the most slick and streamlined marketplace, but it functions as much more than that. Those who aren't interested in buying or selling will still enjoy using the app, and browsing through the site.
Final Thoughts On Artsy
Artsy isn't an easy website to use at first. The sheer amount of options makes the site intimidating to browse, and the variety in prices adds another complexity. For the buyer, it's easy to turn away instantly, and try a simpler online store.
But we think you should look again. Artsy doesn't just sell you art — it teaches you about art. With their editorials and gallery features, you can explore artworks from across the globe, and from artists with all kinds of styles.
It might take some time to find your chosen piece, but we can almost guarantee that there's something on there for everyone. And if it isn't there just yet, it will be there soon.
For sellers, Artsy isn't quite so simple. Rather than working with artists, Artsy partners with galleries, and maintaining visibility is difficult.
Our overall impression is that Artsy is like all the best artworks: complex and overwhelming, but well worth the effort of figuring out.