Saatchi Art is an international art gallery founded in London in 1984. The gallery has since expanded to over 30 countries around the globe. Its mission is to promote contemporary art through exhibitions, publications, and educational programs.
Saatchi Art is known for its innovative approach to marketing and advertising. They believe that art should be accessible to everyone, regardless of their financial situation or location.
The gallery's philosophy is "to make a difference by making art available to as many people as possible."
Their work includes:
Exhibitions
Educational programs
Publications
Art fairs
Online platforms
Promotional campaigns
Digital media
Social media
Advertising
Creative direction
Print production
Event management
Photography
A Brief History
In November 2014, Charles Saatchi, owner of Saatchi gallery, initiated legal action in the UK's Chancery division of the high court of justice against the current owners of Saatchi art.
He demands the organization stop being called Saatchi Art due to a breach of an intellectual property agreement of February 18, 2010.
Saatchi Art – What Is It & How To Use It 
Online galleries and marketplaces have become very popular over the last few years. However, it can still be difficult to choose which platform will work out the best.
Saatchi Art is a great place to discover new artists! Saatchi Art has 1.4 million artworks listed, 94 thousand artists sell on their platform from over 100 countries. They also have a mobile app.
Artists can promote their work using the Saatchi Art affiliate program. You can also use the Saatchi Art website as your own personal gallery.
Saatchi Art is an online gallery that sells artworks by artists around the world. Artists sell their work on Saatchi Art for a commission fee. Saatchi Art has over 12 million monthly page visits and over 1.1 million followers.
This site has a lot of traffic and a lot of artists. You can sell many types of artworks on Saatchi Art such as paintings, photographs, sculptures, drawings, collages, and more.
Original paintings by artists are usually sold first, then limited editions, and finally open editions. Most print services offer to print on demand, but this isn't always true.
Who Can Sell On Saatchi Art?
Anyone, really! However, you must be over the age of 18 to sell your work on Saatchi Art, much like many other art site services. This is for your own protection.
Selling your own prints requires you to be a certain age because of privacy and rights over the pieces themselves, as well as your protection as the artist. So if you are over 18, you can get stuck into selling and featuring your amazing artworks on their site today!
It's worth doing if you want to get your work out there and publicize it well. Gallery spaces like this one are known for their great reputations and trust between clients and artists. So, selling through a professional online space is what you'll want to do!
How Much Does It Cost To Sell On Saatchi Art? Is There A Commission Fee?
You get to choose how much you want to make off each sale. You also get to decide whether you want to pay a fee to use the platform.
There is no set price per piece sold. If you have a print priced at £100, then you will only get paid £50 from the sale. So, expect to get half the income from the piece due to the site featuring your artwork to be sold.
You may want to possibly up the price of the piece then if you would like to achieve a higher pay from it, depending on how long it took you to create, and the effort put into it. Larger pieces can go for a larger amount, and vice versa.
If you decide to go with a commission rate, then you'll need to pay a percentage of the total amount you receive from the sale. For example, if you charge a 10% commission, then you would need to take 10% of the total amount received from the sale.
What Kind Of Payment Options Does Saatchi Art Offer?
You can decide to either accept credit card payments or bank transfers. Payments are processed within 24 hours after receiving them. So, it's up to you which option you'd like to go for.
If you need to know when the money is transferred into your bank account, feel free to use the best option for you to keep tabs on it.
As long as you get your payment for your artworks at the end of the day, that's all that matters because they are worth your time and effort. And receiving the correct price for your time and effort is what's vital.
What Is The Minimum Order Size?
For most artwork types, the minimum order is £400.00. So, this should give you a basic knowledge of the types of artworks you would want to sell on the site.
This may seem a little steep in some areas of the art world, but artworks require so much of our effort and creativity to produce, so you want to be paid a fair amount. Also, keep in mind that usually, up to 50% of the profits can go to the gallery itself for featuring your artworks.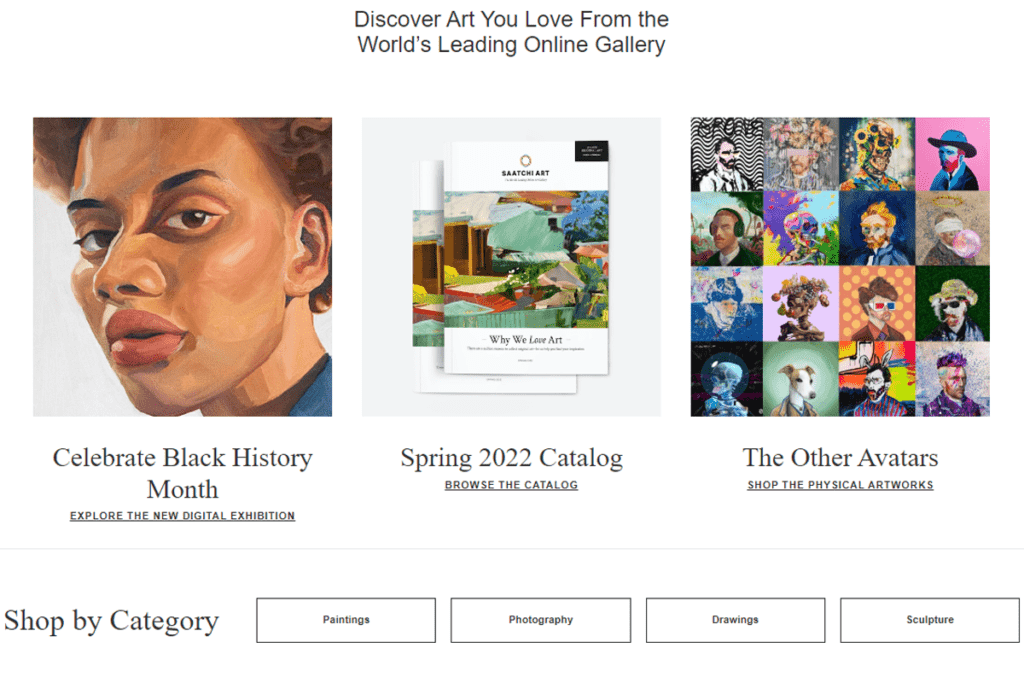 Can I Sell My Original Paintings On Saatchi Art?
Yes! Original paintings are allowed on Saatchi Art. All you need to do is register and upload your painting onto the website.
Always be aware though that original pieces cannot be obtained after purchase, so if you're not finished with the original just yet, make sure you take plenty of professional photographs and anything else you may need from it. Because you won't see it again! It will be in some lucky buyer's living room.
How Do I Create An Account On Saatchi Art?
You need to create an account before you can use Saatchi Art.
Simply click on the "Register" button when on the website, which is located in the top right corner of the website page. This is a very simple process. You provide your first and last name along with your email address and create a password. Then you will get a confirmation email, and you're good to go.
To receive payments, you'll need to upload a government-issued picture ID. Some people are too scared to do this. We know how difficult it is to get a driver's license or passport, but we're sure you can handle uploading a picture of yourself.
What Happens When I Sell An Artwork?
When you sell artworks on the Saatchi Art website, you're directly notified by email to the email address that you've associated with your account. And you'll get a list of your sales, as well as the status of your sales (sold, pending, etc.).
In the email you receive, you'll also be directed on how to ship your artwork. They give a checklist to follow when you've sold an original piece. It's a fairly simple process, so don't be too worried over how this all works. Once you get the hang of it, it'll be like second nature to you!
Brief Reminders
This service is a great way to sell artwork online. Artists should carefully consider using this service because the website doesn't offer any security measures. Once stolen, it's impossible to recover the art or make a reasonable return.
This is always going to be an issue with any online art seller or service, however, some more than others. So, as long as you do your research, you should be able to find enough security for your work being featured.
Saatchi Art Memberships
Saatchi Art offers two types of membership:
1) Individual Membership (free)
2) Corporate Membership ($4,000/year)
Individual members can view all the gallery's exhibits online and download high-resolution images from each. Saatchi art is an online platform where you can find all kinds of artworks from different artists.
You can search for a piece of art based on your interests, such as modern art, photography, and sculpture.
Saatchi Art has been used by celebrities all over the world. Some of these include:
Amitabh Bachchan
Karen Gillan
Gareth Bale
Natalie Portman
Frames
Frames are made of many types of materials, including wood, metal, resin, and more. The price ranges from $5 to $100 per linear foot.
A thin frame made of polystyrene costs about $5 per lineal foot. A highly decorated wooden frame can cost up to $100 per linear foot. The average frame costs about $15 to $25.
Standard frame moldings come in lengths of 118 inches. However, it is also possible to frame an extremely long piece. Saatchi Art likes for its clients to take some pictures of the room before the piece is installed.
They also ask them to measure the room dimensions and provide them with a swatch of the walls' colors. The client should then tell them what kind of design they prefer.
Pros: Why You Should Buy Art On Saatchi Art
Saatchi art is an online auction site where people can buy affordable art from emerging artists worldwide. You can view their work from the comfort of your computer or phone. Their communication is clear and easy to understand.
The paintings arrive within a week of ordering. They are packaged well and are exactly how the artist describes them. This is a great place to get your first piece of art!
The site puts in all effort to replicate the experience and culture of traditional galleries, all pieces are viewed by the site's curators. These curators also look out for pieces of exceptional quality and worth featuring in their catalog.
They have excellent assistance, starting from the pre-purchase phase. They also have exceptional seriousness and professionalism at all times, as well as featuring fast shipping for their buyers.
Free Advisory Services is another great thing about this website; they offer an optional advisory service, so whatever type of artwork you are looking to buy, your curator will personally pick thirty pieces for you to browse through. No other site (That we know of) offers such a free service.
Many buyers that use this site are from a large plethora of countries and continents around the world, some even from places like Estonia, where the shipping may take some time but should arrive safely with your beautiful artworks.
And if the framing becomes slightly damaged during the delivery process, Saatchi Art arranges for it to be replaced, so you don't have to worry about the buyers who purchase your artworks. The price of the shipping is included in the price of each piece.
Cons: Disadvantages of Saatchi Art
Artists should include a warning on their packages that says "DO NOT SAFE DRIP" on top of the package. This will prevent people from dropping the package off at their doorstep or leaving it on the side of the road.
Artists should also communicate with the customer about what time the package will arrive and how many days it will take to arrive.
In some cases, the collectors will have to pay fees and custom taxes on items they have purchased, this depends on where they are planning to have them shipped to.
Final Thoughts
Saatchi Art is a great website. It has a very good reputation among shoppers. Many people who bought from them are happy customers.
We noticed that many of them are returning customers. Their products are always shipped fast and carefully packed. It's always a positive thing when customers return to use a site because this provides more of a secure feeling to using them for your own artworks or art buying purposes.
Overall, Saatchi Art is a fantastic site to use because of its care for you and your artwork. And if you're a buyer, they have impeccable care for your purchases from the moment you decide on the artwork for your home space, to when it has been delivered and hung.