Do you love creating digital art? The great news is that you can make money from your passion for making digital artwork. Selling digital art online is a good side hustle for people looking to make a bit of extra cash from something they enjoy doing!
There are lots of different websites and online artist communities that allow people to sell their artwork online. But how do you sell digital art online? Are there sites to use and places to avoid? What steps should you take?
If you're new to selling digital art then we bet you have asked these questions before! So today we are here to answer them for you. Keep reading to find out the best ways to get paid for your artwork!
First Steps For Selling Digital Art Online
There are a few different steps involved in selling digital artwork online; first of all, you'll need to establish your online presence.
You can do this by creating a high-quality digital art portfolio which you'll use to advertise your work, and also by effective social networking, which will help to increase the traffic you get to your online content, and therefore the number of buyers you will achieve.
Make A Portfolio
Create a digital art portfolio with some of your best creations so that you can quickly and easily showcase your skills to potential customers, websites, and online artist communities.
You want to make sure that you select your very best pieces of work, it doesn't need to be a huge portfolio filled with lots of art, it just needs to be enough to display your unique talents.
To display your portfolio, you could create your website (which will be used as your landing page) or use a pre-existing online platform.
It's also worth creating a file for your portfolio so you can easily send it off by email if needed. To make your website, free platforms such as WordPress are a great place to start.
Social Networking 
To sell your digital online effectively, you must display your works prominently on social media. Try to utilize all the different social media platforms so that your work is far-reaching, such as Facebook, Instagram, and Youtube.
Social networking will help you to obtain visibility to artist communities online, and it will also help you find those communities. Make sure that the social media accounts you use for your artwork are purely for business, don't mix your personal and artwork accounts up!
There are a few things you can do to promote your social media presence.
Tips Before You Start Selling
You can also sell your art on social media sites such as Facebook. They have a "Marketplace", so if you don't want to set up your website just yet, you can simply list your art on here and attract buyers.
The Facebook Marketplace already has a lot of traffic to it, so listing your art will help you to become visible to the public.
Also, using Marketplace means you don't need to have specialist knowledge of marketing terms such as SEO (search engine optimization), and the selling of your products is also protected by the social media site.
Certain platforms also provide strong email and social media marketing activities, which can increase the flow of customers to your work. Make sure to carefully read through the terms and conditions before you try to sell your work on any website.
You'll need to know the commission of each website you consider, make sure you understand the protection on offer, and learn everything you need to know with relevance to making your sales.
Have a look at our top marketplaces below, these are some of the best places to get started if you want to sell your digital art online.
Best Marketplaces To Sell Digital Art Online
It can be quite easy to sell your digital artwork online these days. We've put together 10 of our best choice marketplaces for listing your art and increasing the likelihood that you'll get customers to purchase your creations.
It doesn't matter if you're a beginner or a professional, you can make some great money on the side from selling your art, and you could even make a full-time wage if you put the effort and dedication into selling your work.
DeviantART is a huge social network platform made for art enthusiasts. It has around 30 million members, which means great access to a wide range of art-loving customers.
This community is a great place for both new and popular artists to showcase and sell their creations. These creations vary greatly from paintings to anime, so whatever your specialism, you're bound to feel at home exhibiting your artwork through deviantART.
Adobe Stock is one of the biggest and most popular online marketplaces around. You can sell your artwork here and it becomes part of an image bank.
Adobe Stock provides millions of photos to the general public and gives royalties to the digital artists that submit work.
You can easily upload your artwork over the internet, or via apps such as Adobe Bridge CC or Adobe Lightroom CC.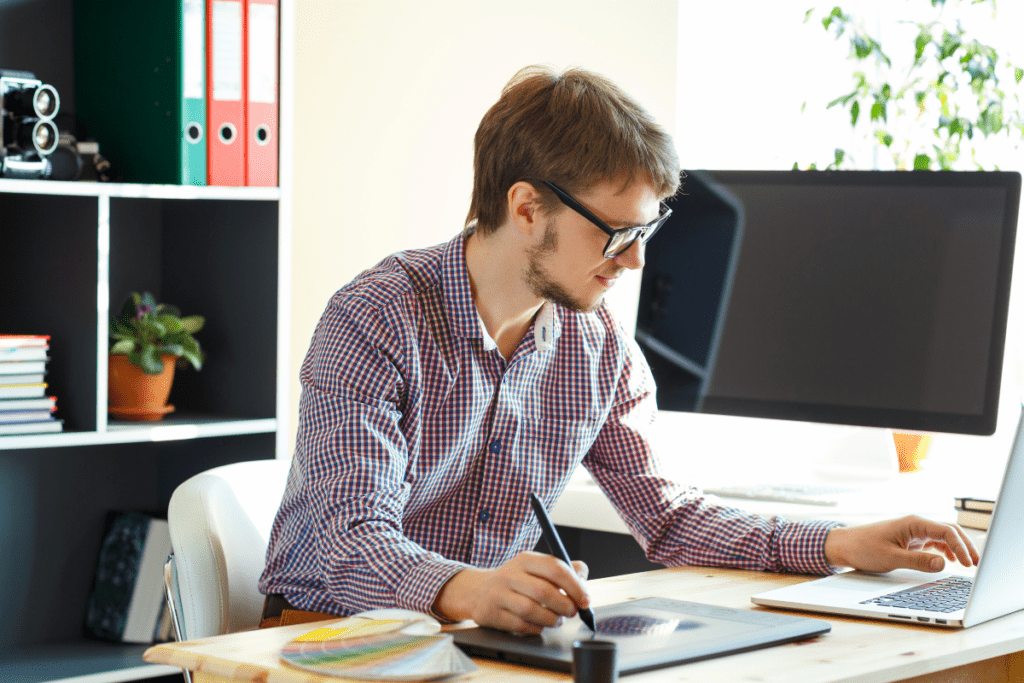 Etsy is one of the most popular online stores in the world and specializes in handmade arts and objects. Customers go to Etsy for individual, unique pieces, and there are lots of different ways to sell your digital artwork on this website.
Creating an Etsy account and selling your pieces is a great way to make income on the side, however, it's good to keep in mind that Etsy is highly competitive – there's a lot of fantastic artists out there! So make sure that your artwork stands out to attract buyers.
Lots of graphic designers, photographers, and reporters sell their works to Alamy. The site already has thousands of buyers, with a plethora of sales being made each day.
It offers good royalties too, with a 50% cut for artists that send their work in.
CanStockPhoto provides a multitude of art pieces for image banks. All you need to do is make an account and display three images to be approved. If they get approved, you can start selling your pieces, which will receive an impressive 50% payment – not a bad little moneymaker!
The Envato marketplace provides a wealth of graphic designs and incorporates many other sites for website templates, vectors, and graphics. With over a million members on the network, you shouldn't find it difficult to source potential buyers.
You can easily sign up to become an author, and then you can turn your page into your portfolio and customize it exactly how you want.
CafePress allows people to create unique art designs using its online tools. They can buy and sell them too, with a huge variety of styles and over 100,000 designs being added each week by many different artists around the world.
Saatchi Art is a very popular option for online digital art sellers. With an enthusiastic audience base, you can make some good cash from this marketplace.
It doesn't only advertise illustrations and paintings, it also sells sculptures! Keep in mind that the website will charge you 30% of your sale, but it's worth it for attracting lots of interested customers.
Society6 is an online art store that lets artists upload their designs so that customers can have them printed on different objects such as phone cases, pillows, and mugs.
Society6 has a dedicated customer base, and they'll even sort out your shipping arrangements! There is a commission of 10% per sale, but considering the number of customers and the no-fuss shipping, this website makes up for it.
Flickr is another social network platform for artists, with a virtual image gallery so you can share photos with the community. You can create your art collations, and join niche artist groups.
Conclusion
There are lots of different ways to make money selling digital artwork online. It's important to first establish an online presence by creating a portfolio to showcase your work, engaging with social network sites, and making or joining a website to advertise and sell your work.
It can be difficult to compete with the vast number of talented artists out there, but if you follow this guide and put some time and effort into getting your best artwork out there, you should be able to make your passion for digital art a good source of income.